Education Certifications and Credentials
Education
Bachelor of Science in Nutrition, Minor in Biology, Meredith College

Master of Public Health in Nutrition, University of North Carolina, Chapel Hill
Certifications
Registered Dietitian, Commission on Dietetic Registration

Licensed Dietitian/Nutritionist, State of North Carolina Department of Health

Board Certified Specialist in Sports Dietetics (CSSD)

CSSD Board Review Member, Subject Matter Expert

Academy of Nutrition and Dietetics, Sports Nutrition Care Manual, Board of Editors

USA Triathlon Certified Level II Endurance Coach

Training Peaks Certified Coach

Slowtwitch Swim Certified Coach
Education Certifications and Credentials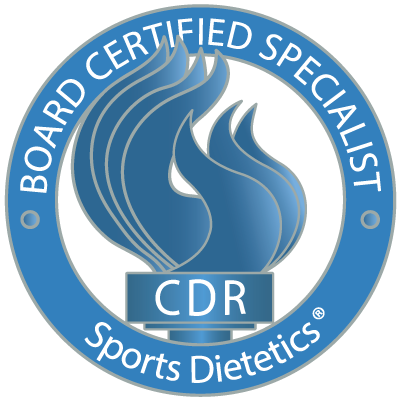 Susan is a Board Certified Specialist in Sports Dietetics (CSSD)
This credential is the premier professional sports nutrition credential in the United States. CSSDs are registered dietitians who provide safe, effective, evidence-based nutrition services for health, fitness, and athletic performance. The CSSD was developed by the Commission on Dietetic Registration (CDR), the credentialing agency for the American Dietetic Association, the nation's largest organization of food and nutrition professionals. CDR is an organizational member of the National Organization for Competency Assurance.
How do you differentiate science from pseudo-science in nutrition advice?
A Registered Dietitian has the highest level of nutrition counseling. Anyone can call themselves a nutritionist or obtain a certification in nutrition, but only a registered dietitian (RD) has completed multiple years of extensive education and training established by the Accreditation Council for Education in Nutrition and Dietetics (ACEND). In addition to holding a bachelor's degree, a Registered Dietitian must fulfill a specially designed, accredited nutrition curriculum, get accepted into and then complete an extensive 10-month supervised internship program of practice (typically 1200 hours) and successfully pass the 3-hour rigorous registration exam. What's more, roughly half of all RDs and RDNs hold graduate degrees and many have certifications in specialized fields, such as sport nutrition, renal, oncology, pediatric or gerontological nutrition.
What services does a CSSD provide?
Apply the science of sports nutrition to fuel fitness and performance

Provide personalized sports medical nutrition therapy for special populations

Create customized sports nutrition programs (design, develop, manage)

Evidence-based sports nutrition guidance to fuel fitness and athletic/sport performance

Personalized sports medical nutrition therapy for special populations, e.g., bone mineral disturbances, cardiovascular conditions, diabetes, disabled athletes, disordered eating, female athlete triad, food allergies, gastrointestinal disorders, high blood pressure, iron-deficiency anemia
Top Ten Reasons to Consult a Board Certified Specialist in Sports Dietetics (CSSD)
1

You want to improve exercise or sports performance.

2

You want to gain muscle mass or lose body fat.

3

You want to gain muscular strength and power.

4

You want to increase stamina and endurance.

5

6

You want to choose the best fluids to drink before, during, and after exercise or sport.

7

You want to make better food choices and need ideas for buying and preparing food.

8

You have food allergies or intolerances and want to know the best choices for your condition and how food and medicine interact.

9

You experience gastrointestinal problems that keep you from performing at your best and you seek solutions.

10

You are an athlete who has a medical condition, e.g., diabetes, cardiovascular risk factors, compromised bone health, abnormal iron status, food allergies, or gastrointestinal problems such as gluten sensitivity, and you want nutrition guidance and a personal meal plan.