Did you know that one athlete might lose 100 times more sodium than another? While sweat rate is generally correlated to body size and gender, electrolyte losses through sweat are unique to each athlete regardless of size, activity, intensity, or gender. Simply put, a one-size-fits-all hydration and sodium plan does not work.
In addition, an athlete's sweat rate and concentration of sodium loss varies throughout the year, especially in different environmental conditions.
Levelen sweat testing is a scientific approach critical for all athletes seeking to optimize performance and maintain adequate hydration during training/racing while minimizing heat-related illness, low energy, dehydration, cramping, and GI issues – all of which can be due to an inadequate hydration and sodium-replacement plan.
By determining your individual hydration and electrolyte loss in different climates, a personalized fueling and hydration plan can be created to meet your specific fluid and electrolyte needs.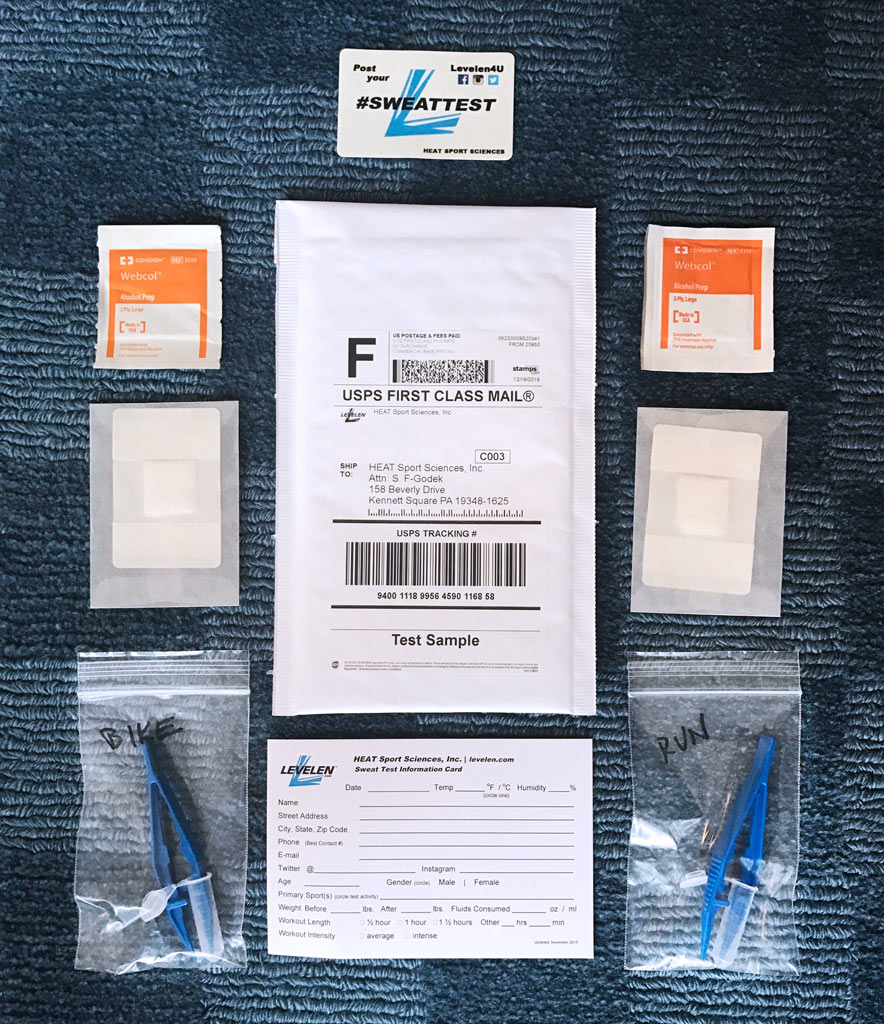 Combine this service with the Performance Fueling nutrition service for a complete fuel and hydration plan for training and race day.
How does this test work?
Once you purchase this service, you will receive a Levelen self-administered sweat test kit. The kit includes detailed instructions and a card to record all pertinent data from the test.
You will also receive a Race Smart sports nutrition form to complete and return at your convenience.
Mail the completed sweat patch (in the vial) and card to Levelen in the pre-paid, self-addressed envelope.
Your results will be analyzed and emailed to Race Smart within 2-3 days of Levelen receiving your test kit. Race Smart will then contact you to set up a 60-minute consultation.
*Triathletes – consider purchasing two sweat test kits – one for the bike and one for the run since sweat rate and electrolyte loss varies on the bike and run.
What is included in this service?
One 60-minute consultation to create a detailed hydration and electrolyte plan that meets your specific needs.
Recommendations on the best sport nutrition products to match your hydration needs and sodium loss.
Additional 30-minute follow-up sessions are available to purchase.
Sign up for Sweat and Electrolyte Testing
"*" indicates required fields
"After struggling with hydration issues for several years, Susan suggested a formal Sweat Test to more effectively determine 'what' and 'how much' I need to replenish during a long workout. The results were eye popping, but also eye opening. I am data-driven; so being able to see the quantification of my fluid and electrolyte loss on paper made me realize that I had to make changes, but I still needed a plan. Susan provided me with a specific strategy to replenish fluids and electrolytes before and during a long workout, but also post workout to help with recovery. I tried it, and the results were crystal clear. When I followed the plan, I could sustain my pace/performance throughout a long, hot workout and also feel ready for whatever I had in store the following day."