Long Way Home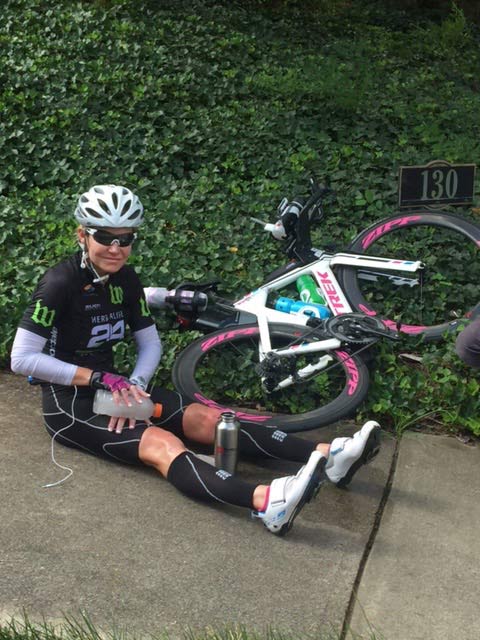 After finishing up a great 3+ hour ride, I decided to travel the long way home on an usually pleasant summer morning here in North Carolina.
Just one mile from my home, coasting at 20mph on a descent along a wide, pedestrian-friendly neighborhood road I noticed a white pickup truck pass me. Seconds later the truck made a hard right turn into a driveway, cutting me off, causing me to slam into the passenger's side door.
I remember thinking, "you are crashing into this truck – so try to fall gently" while plunging toward the sidewalk. After landing, my first inclination was to yell at the driver, but my skinned knee and bloodied finger hurt badly. Putting my physical injuries aside, I wondered where my sweet bike was. 10 feet way, it looked ok and wasn't mangled. Phew!
The driver of the truck felt horrible and provided ice for my finger, water and napkins to clean my gushing knee wound. He stayed with me until my husband came to fetch me off the sidewalk.
After getting back home, I assessed the damage done to my bike. The chain was off, the bar tape torn, the headset scratched, Di2 box came off, and derailleur was bent. Fortunately, Jonathan Crawford (owner of Crawford Service Course), came to pick it up and mend it and confirmed that the frame was not cracked.
Today, I woke up very sore from the impact, and both knees hurt. But overall, I am very lucky to have collided with a truck and walked away with minimal injuries.
My takeaway –
 we, cyclists, are safer on quiet country roads than in neighborhoods with side streets, driveways and lots of distracted drivers,
 we are safer and more noticeable in numbers,
always assume drivers do not see you,
be polite – even if they aren't – our end goal is we all share the road, nicely.
Thankfully, the driver that hit me was very kind and gracious.
Be safe out there.