Ironman Augusta 70.3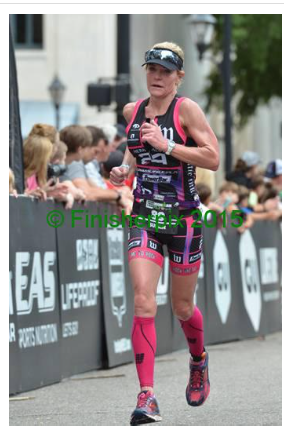 Ironman Augusta 70.3  This was my second time racing Augusta 70.3. In 2013, it was a beautiful day, not a cloud in the sky, and no wind – and I wasn't in an Ironman build. 2015 was different. Not only was the bike course altered but the weather was rainy and suffocatingly humid. But finding the positive in everything, it wasn't hot and there was no chance of getting sunburned.
As this wasn't an A race for me, I approached Augusta as a supported training day. With Ironman Arizona  7 weeks away, it was a nice break to taper for a few days before the race, then rest before my final build to Ironman. My goal was to see what I had in the tank and find my weak spots. Mission was accomplished.
My swim was identical as two years ago, 25 minutes and change. It's an in-water start, current assisted swim straight down the river with one right turn at the swim exit.
My bike time was also identical as two years ago, which I consider a victory with more elevation, and adverse weather conditions. I stayed steady, careful not to crash as it is a congested ride – and fueled early and often.
Bike nutrition: 2 bottles Powerbar Perform (loaded on my bike) with one tab of Nuun/bottle, 2 packs of Powerbar Blasts and 1 full bottle of Gatorade Endurance formula – from an aid station and some water taken from an aid station as well. This is approximately 950 calories and 2400mg sodium.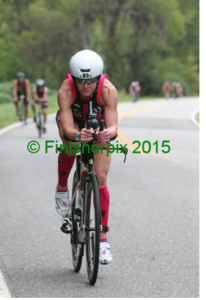 I came off the bike feeling great and happy to be on the run. My intention was to hold back and run easy for the first half but because I missed a few mile markers, I was unaware of my run pace until mile 4. Over those first 4 miles, I averaged around 7:28 pace. Mile 5 was 8:02 for an aid station, and miles 6 and 7 averaged 7:40. So far this had felt easy. But by mile 8, I felt flooded with fatigue. Regardless if it was the stifling humidity and excessive sweat rate or going out too fast, I found myself in a hole. This is never a fun place to be, but I pressed on with a few 30-second walk breaks to unload the legs and that helped. And, I increased fluid intake at aid stations and took in additional sodium (carried with me).
Adding insult to injury, I got passed at mile 11 and very close to the finish by my AG competitors. Losing 2 spots that close to the finish was hard to swallow.
Run nutrition: Gatorade Endurance, water or coke (started at mile 7) at every aid station, 1.5 gels (one at mile 3 and mile 9), and 5-6 Scaps over the 13.1 distance.
I always say you learn more from a less than optimal day than your victories. Had I been wiser, more conservative and smart early in the run, I would have walked away feeling great about my execution. Unfortunately or maybe fortunately, that didn't happen.
One day I'll be back to race on this well supported, fun course! Next up, Ironman Arizona.