The Power of Failure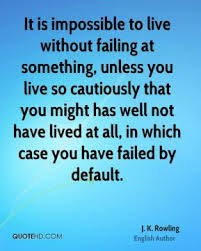 Every person, every business man/woman and every athlete, should embrace failure with open arms. It is only through failure that we learn our greatest, most valuable life lessons. Many of the world's finest individuals have learned this the hard way. Here are a few of my favorite quotes on the importance of embracing failure, along the road to success.
12. Don't worry about failures, worry about the chances you miss when you don't even try.
– Jack Canfield
11. My great concern is not whether you have failed, but whether you are content with your failure.
– Abraham Lincoln
10. When we give ourselves permission to fail, we, at the same time, give ourselves permission to excel.
– Eloise Ristad
9. Success is most often achieved by those who don't know that failure is inevitable.
– Coco Chanel
8. The greatest mistake you can make in life is to be continually fearing you will make one.
– Elbert Hubbard
7. Only those who dare to fail greatly can ever achieve greatly.
– Robert F. Kennedy
6. There is no failure except in no longer trying.
– Elbert Hubbard
5. Failure is simply the opportunity to begin again, this time more intelligently
– Henry Ford
4. The greatest glory in living lies not in never falling, but in rising every time we fall.
– Ralph Waldo Emerson
3. Failure is success if we learn from it.
– Malcolm S. Forbes
2. I've missed more than 9000 shots in my career. I've lost almost 300 games. Twenty-six times I've been trusted to take the game winning shot and missed. I've failed over and over and over again in my life. And that is why I succeed.
– Michael Jordan
1. It is impossible to live without failing at something, unless you live so cautiously that you might as well not have lived at all. In which case you have failed by default.
– J. K. Rowling
What would you attempt to do if failure were not a possibility?