Platelet Rich Plasma – and a Pull Buoy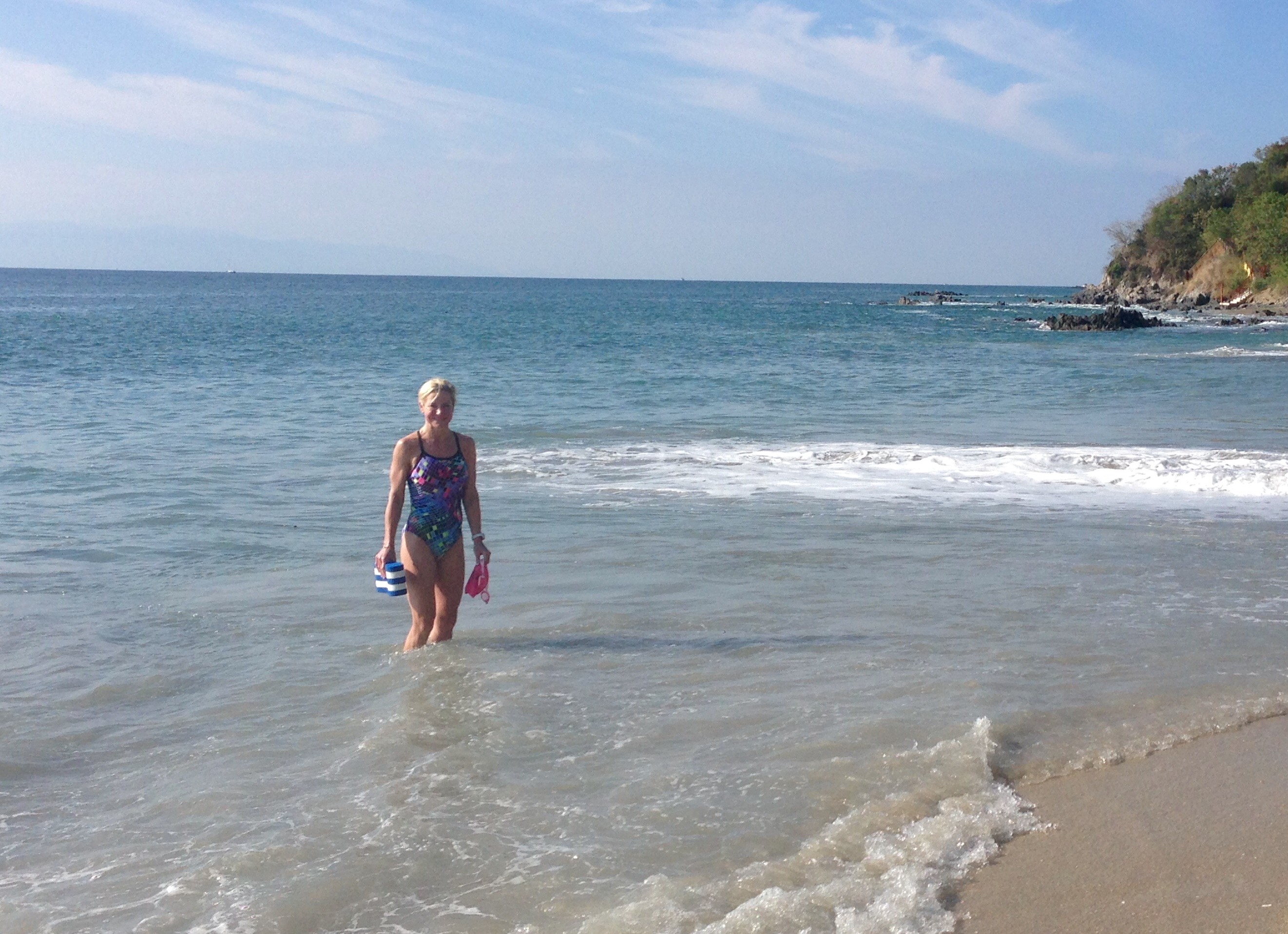 Yep, here I am in Mexico open water swimming with a pull buoy – which I named "Wilson" – after the movie Castaway. You ask, why am I open water swimming with a pull buoy?  Good question!
For the better part of 2014, I have battled chronic hamstring tendonitis.  It started out with the typical symptoms, tightness, less flexibility and discomfort sitting down after long, hard workouts. For the most part, it showed up in my runs, especially coming off the bike. I spent countless hours with my ART therapist, message therapist and even tried acupuncture when desperate which actually worked magic, for a little while….  In July, after Ironman CdA, it seemed to worsen.  Perhaps I came back into training too soon, too hard – in prep for Kona, just 15 weeks later.  At any rate, my therapy sessions increased and this kept the leg content and in working order enough to get through Kona.
After Kona, I took a break, let my body heal and was hopeful to return back to running, discomfort/injury free. In this off phase, I added eccentric loading exercises to my functional strength regimen – and this seemed to help, a little. I have attended Asana Hot Yoga frequently trying to create flexibility in the hamstring –  which actually seemed to make it worse – although I am a big fan of hot yoga!
Sadly, it was apparent that this problem wasn't going away – and my "keep Susan up and running team" couldn't tell exactly what was wrong. Finally, in mid December, I saw a Sports Med physician  to determine where the actual problem was along the hamstring/glute chain.  A diagnostic ultrasound showed the left hamstring attachment into the glute 50% larger than the right (good) side. The likely cause was a mild tear, unknown to me, that had created lots of scar tissue over the course of 2 Ironmans and a long training season.
The best option was PRP– Platelet Rich Plasma Therapy which I had injected 4 days ago. My post injection instructions were to let the leg rest – no running, no biking, no swimming, no yoga – Say What?  For how long? Was I even able to walk around or did I need crutches?  I might add that although PRP is FDA approved, health insurance does not pay for it.
I needed to make this count.
For 7-14 days, I can walk around – for life purposes – no power walking  – which is just fine because I am terrible at that. Then I'll begin zone 2 efforts in training. Here's the silver lining – I can swim but can't kick – no problem! So, "Wilson" came along with me as a workout companion. I guess there is no chance of drowning with Wilson along for the ride!
10 days post injection I will begin my healing journey with a PT who I will likely see 2 -3 times/week for 2 months. I am dedicated to doing whatever it takes to heal my hamstring attachment as I have a big year planned for 2015 starting with Ironman Texas on May 16th. I am hopeful to be healthy enough in May to race but time will tell how my year will unfold. For now, I choose to enjoy this journey of working on new things, meeting new people and embracing the process of strengthening and healing my hamstring.
And, swimming with Wilson.