Caramel Stuffed Pumpkin & Spice Cookies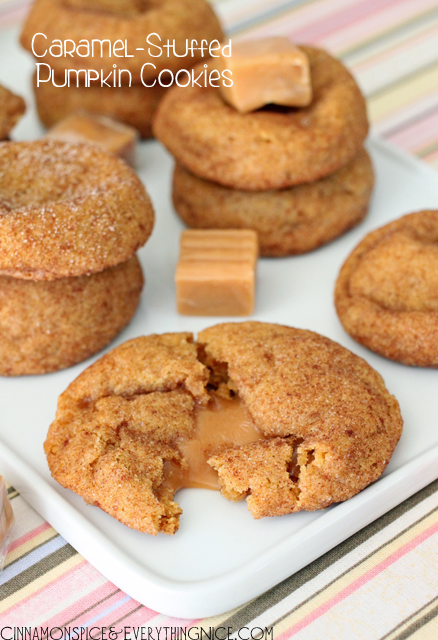 Caramel Stuffed Pumpkin & Spice Cookies
Every Christmas one of my absolute favorite holiday parties is "The Cupcake Girls" (my running group) annual cookie exchange and gift stealing party. We tend to bring our favorites, mine being Oatmeal Scotchies. But, several of my friends like White Chocolate Macadamia Nut cookies – so I try to make those too,  but this year I tried something new with a twist – and it was a big hit. The preparation is a two step process but it isn't difficult – be patient and give it a try. I will say that the rolo centers were as popular as the caramel centers and were softer once cooled. Let me know how you like these!
Caramel Stuffed Pumpkin Cookies
Prep Time: 35 minutes
Cook Time: 14 minutes
Yield: about 28 cookies
Soft cinnamon-spiked pumpkin cookies with surprise caramel centers. Stuffed inside each one is a sticky Kraft caramel  or Rolo that melts to form the filling. They have a subtle pumpkin flavor highlighted by cinnamon both inside and out.
INGREDIENTS:
1/2 cup unsalted butter, room temperature
1 + 1/2 cups granulated sugar, divided
1/3 cup canned pumpkin (not pumpkin pie filling)
1/2 teaspoon vanilla extract
1 + 1/2 cups all-purpose flour
2 tablespoons + 1/2 teaspoon ground cinnamon, divided
1/8 teaspoon ground cloves
1/8 teaspoon ground ginger
1/2 teaspoon baking soda
1/4 teaspoon baking powder
1/4 teaspoon salt
1 (14 ounce) bag Rolos (for soft middles) or Kraft Caramels (for hard, chewy middles) (unwrap about 30 of them)
INSTRUCTIONS:
Line 2 large cookie sheets with silpats or parchment paper.
In a large mixing bowl or stand mixer beat the butter and 1 cup sugar together on medium speed 2 minutes. Add the pumpkin and vanilla beat on low 2 more minutes.
In a small bowl whisk together the flour, 1/2 teaspoon cinnamon, cloves, ginger, baking soda, baking powder and salt. Add to the sugar mixture and beat on low just until combined. Refrigerate 30 minutes.
After 30 minutes scoop up very slightly rounded tablespoons of the dough, stick a caramel in the center and roll into a ball. Set on one of the parchment lined cookie sheets – it's ok if they're crowded just try not to let them touch. Repeat until all the cookie dough is used up. Refrigerate at least 2 hours or overnight.
When ready to bake preheat oven to 350 degrees F. Whisk the remaining 1/2 cup sugar with 2 tablespoons cinnamon in a wide, shallow bowl.
Working in batches, roll the cookies in the cinnamon sugar and bake 2 inches apart for 14 minutes. Refrigerate the unbaked cookies in between batches.
Allow the cookies to cool completely on the baking sheets. Store in tightly covered containers up to a week.
Caramel Stuffed Pumpkin & Spice Cookies