Pecan Granola Recipe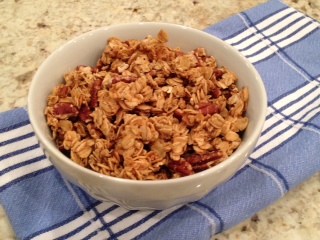 From the Race Smart Kitchen
Looking for a healthy topping for your Greek yogurt, oatmeal or just a yummy post workout recovery snack? Here is a delicious, nutritious and homemade granola recipe that you won't be able to live without!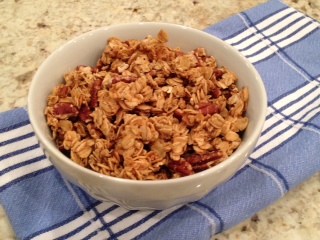 Pecan Granola Recipe
Makes 1 Quart
Ingredients
2 cups old-fashioned oat or Steel Oats
1/2-cup wheat germ (optional)
2 TBSP dark brown sugar (can go down to 1 TBSP)
1/4 tsp. salt
1/2 cup halved or chopped pecans
About a tsp. of cinnamon
1/4 cup 100% pure maple syrup
3 TBSP flavorless oil (vegetable, canola)
1 TBSP water
Directions
Adjust oven rack to the middle position, and heat oven to 275 degrees. Coat cookie sheet with cooking spray, then set aside. Mix oats, nuts, wheat germ, brown sugar, salt in a bowl and set aside. In separate bowl, mix syrup, oil and water and then heat in microwave ~30 seconds to warm up. Drizzle over oat mixture, and stir thoroughly so all ingredients are moist. Spread evenly onto baking sheet. Bake for 45 minutes. Let cool before removing from pan. Granola can be stored in airtight container for up to 2 weeks.
Bon Appetit!