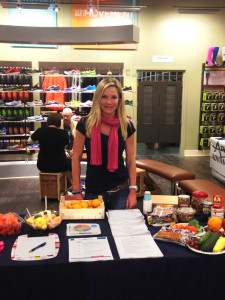 Want to offer your company, team, or nonprofit a fresh new perspective? Energize your group with a motivational message from four-time Ironman finisher and experienced speaker Susan Kitchen, founder of Race Smart, whose expert advice on nutrition and training appears regularly on Ironman.com and the USAT Multisport Zone. Susan is available for seminars and conferences, "lunch and learn" events, and on-site training motivation.
Susan offers insight on a number of popular topics:
Enhancing sports performance
Fueling for an endurance event
Maintaining a vegetarian lifestyle as an athlete
Raising healthy kids in a junk-food world
Eating well in a fast-paced life
Mastering behavior change
Heat and hydration
Weight loss
Body composition
Need a topic that's tailored to your group? Contact Susan. She'll work with you to design a talk or article that fits your needs.
Susan's speaking fee is calculated based on mileage and travel time, preparation, and materials. For more information, please contact her.