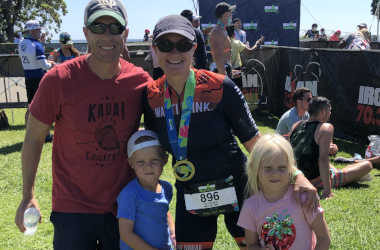 California, San Diego
After a long hiatus from racing, Susan helped me confidently return to the world of long courses. After suffering through the emotional and physical roller coaster ride of infertility, I gave birth to my twins in 2016. I had gone from a highly active, "I can do anything" athlete to one of self-doubt, fearing that I had lost my identity (and feeling guilty about feeling that way!). I tried to return to racing in 2017 and deeply struggled with balancing family life, work, and training. I would continue this path of exhaustion for the next two years, fitting in a short race when I could. When I moved to Kauai in 2019, I was mentally ready to get back into a more balanced and healthier lifestyle. I found Susan's website, read about her background, and knew we would be a good fit. She took the time to get to know me and understand my needs.
Susan focuses on the mind, body, and soul and provides sound coaching advice appropriate for my fitness level. Using her wealth of knowledge, Susan teaches me the "why" of each workout and the importance of proper fueling. We have worked together to find ways to work with busy schedules in remote areas. Susan keeps me grounded when my mind wants to derail and doubt the process. Since working with Susan, I have significantly improved my overall health and performance. Susan sees me for the whole person I am, not just a body trying to race. There is no one size fits all program, and Susan is exceptionally talented in constructing the program for me. I am thankful for the consistent support she has shown me – even though we are several time zones from each other!