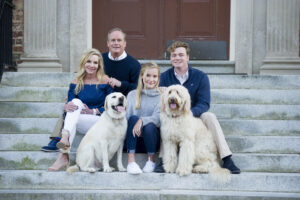 In high school, I played competitive tennis. Rain or shine, summer or winter, I loved the game and how it made me feel. I'd be on the court ten hours a day—on hot days—and still, feel ready for more when it was over. One day, though, I threw the ball up to serve, pulled my racquet back, and . . . Everything went black. Later, when I woke up, I learned I was dehydrated and low on sodium. My coach told me to drink Gatorade. (This was in the eighties before a lot of other options hit the market.) From that day on, I did just that, packing a gallon of the stuff into my backpack. I also made sure to eat breakfast and didn't skip meals.
It was like I'd discovered a secret weapon. Eating and drinking right made all the difference. It gave me an edge over my competition.
My fascination with the connection between nutrition and athletic performance led me to Foods and Nutrition program at Meredith College in Raleigh, North Carolina. During my last semester in college, I was diagnosed with Guillain-Barré, an autoimmune disorder that causes nerve damage and paralysis. As frightening as this experience was, I was able to see life through the eyes of a person with limited capabilities and learned to focus, set goals, and overcome life's hardships.
I fell in love with running in my 20s and, in 1998, completed my first marathon. After running numerous marathons (including Boston twice, with a PR of 3:28), I turned my attention to triathlons. Competing in my first half Ironman in 2009, I discovered my true strength lies in endurance sports. Since then, my focus has been half and full Ironmans. To date, I've earned two World Championship Qualifications at Kona in IM Coeur d' Alene, 2014, and IMNC, 2016.
I am fortunate to be an ambassador to some great companies in the endurance athlete arena – Cocoa Elite,  AltRed, First Bourn, Levelen, Inside Tracker, Ruby's Lube, Locklaces,   Base Performance,  ROKA,  and Infinit Nutrition just to name a few. Feel free to reach out to me for discount codes!
Giving back to the community is important to me. I've served on the Board of Directors of Girls on the Run (GOTR), the GOTR Development Committee, and North Carolina Children's Hospital Board of Visitors. Prior to my board position on GOTR, I coached girls ages 8–12, using running and physical activity to unleash their confidence, while establishing a lifetime appreciation of wellness, physical movement, and positive lifestyle choices.
My most important role in life is being a wife and mom to my two children. Jim, my husband, is an entrepreneur in Chapel Hill, North Carolina, and he runs marathons, 50-, and 100-mile ultra races. I've enjoyed helping him navigate his fuel plan for a 24+ hour race. Most recently he completed his travels to every country recognized by the United Nations – 193 in total.
My son, Kenan, 23, graduated from Georgetown University and is working in Austin, TX! I've founded some great running routes on my visits to Austin.  My daughter, Karsen, 18, is a freshman at UNC-Chapel Hill.  We are empty nesters but still have our furry kids at home to keep us fully entertained.
If you aren't a cat lover, don't hold this against me, but I fostered 4 week old kittens in the fall of 2020 and became a foster fail. I fell in love with this little fellow and although, in the beginning, I saved his life, he saves mine by bringing me and my family so much joy every single day.  Meet Kimba!
My latest business adventure, along with my husband has been the purchase of The Yogurt Pump, an iconic frozen yogurt shop in Chapel Hill since 1982, and one of the longest-standing businesses on Franklin St.
The Yogurt Pump, fondly known as YoPo is a hot spot where UNC students, locals, and tourists alike come to enjoy swirls of delicious frozen yogurt, freshly made waffle cones, and a plethora of toppings to complete a tasty masterpiece. If you are in Chapel Hill, drop by, grab a cool treat, and say hello to our amazing manager, Stacy and staff.